Ladies' Community 
If one woman can change her own world,
imagine what a whole community of women could move. 
Our desire is to create space where women can encounter God together, build friendships, awaken and redevelop our potential, encourage and inspire one another. The Ladies Community is open to all women. We have various offers that are made just for women.
Ladies Community Team Karlsruhe:
Michaela Kröner, Tabea von Kahlden, Mareike Förschler, Susanne Ehrmann
Ladies' Live Talk
We would love to stay connected as a ladies' community during this special time. We talk about relevant issues and want to make space for creativity and to be re-inspired and encouraged.  
We meet 1 x a month, Tuesday evening at 8 p.m. via Zoom for a nice chat. It's best to download the app "Zoom" beforehand. You don't need an account.  
For more information, please check the event in the calendar.
We are looking forward to seeing YOU!
There are currently no events planed.
Ladies' Telegram Channel
Dear Ladies, Conny Gfrerer from the location ICF Kraichgau has created the Ladies Telegram Channel. Here women are on the road together and for each other and are daily strengthened and encouraged by various impulses from different women. We would like to open this channel to be on the road together as ONE Church. Therefore, we invite all women who want to connect with us. We are looking forward to meeting you!
You can join the channel by downloading the app "Telegram" and registering with the following link to the Ladies Channel: t.me/ladiesicfkraichgau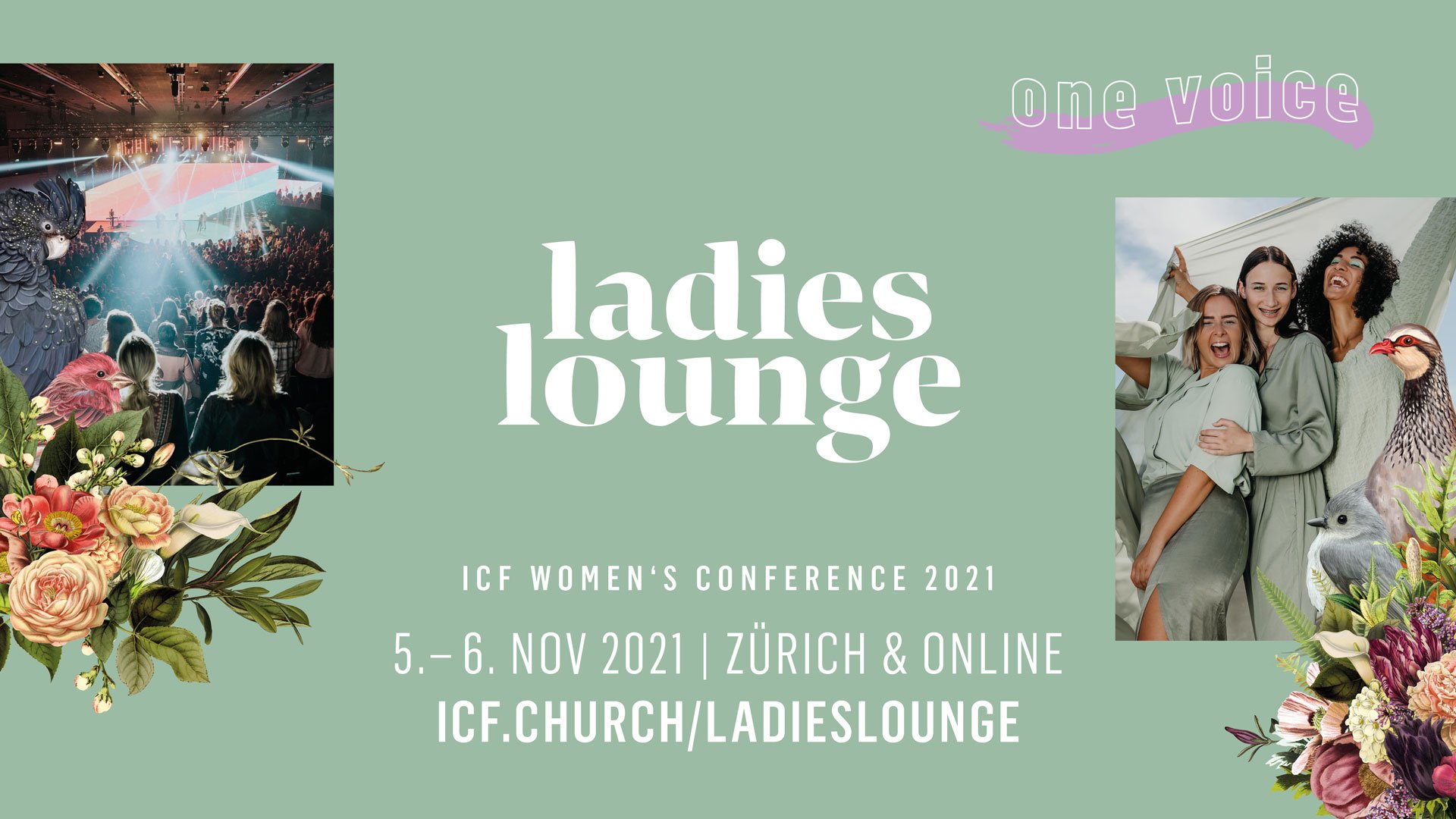 Ladies Lounge 2021
Wir freuen uns so sehr, dass wir die Ladies Lounge 2021, in verschiedenen Locations unserer Church erleben dürfen.
Wir werden am Samstag, den 06.November 2021, live  in Karlsruhe, Bretten,Ludwigsburg und Landau sein.
Per Livestream von Zürich erwarten uns inspirierende Inputs und Worship.
Neben dem Stream weden wir live  vor Ort  verschiedene Angebote haben und Gemeinschaft erleben. Jede Location hat ein individuelles Programm, sei es Live Worship, Gebet, kreative Workshops, schöne Dinge shoppen..
Lass DICH überraschen!
Weitere Infos zum Programm der jeweiligen Locations bekommt Ihr nach der Anmeldung per Email.
Hier einige facts:
Beginn: 8.30 Uhr  Ende: ca. 17 Uhr
Kosten: 10 EUR ( ohne Verpflegung)
Anmeldeschluss( online): 28. Oktober 2021
Verpflegung gibt es vor Ort .
Wir freuen uns mega auf Dich!
Herzliche Grüße
ICF Ladies Community
Infos & Anmeldung
Wir freuen uns mit Euch gemeinsam die Stimme zu erheben!
Lass Dich inspirieren !
Infos & Anmeldung
Das war die Ladies Lounge 2019
Unter dem Motto Joy durften wir vom 8.-9.11.2019 zwei unvergessliche Tage auf der Ladies Lounge in Karlsruhe erleben. Schau dir jetzt noch einmal die Podcasts von Sibylle Beck (JOY) und Veronika Schmidt (Joy of Sex) auf Youtube an!
October
08
Ladies MorningNicht wunschlos,aber glücklich! Das Geheimnis der Zufriedenheit.
Wir wollen euch mit allen Sinnen verwöhnen und an diesem Vormittag einen Raum öffnen, in dem Körper, Seele und Geist satt werden können. Gönne dir diese Auszeit mit einer guten Freundin, Kollegin, Schwester oder mache dich allein auf den Weg. Dich erwartet ein Brunch mit kulinarischen Köstlichkeiten, Live Musik und ein inspirierender Vortrag mit Daniela Sixt zum Thema "Nicht wunschlos, aber glücklich"
Kosten für Essen und Getränke: 15 € (Barzahlung vor Ort)
Referentin: Daniela Sixt, verheiratet, hat 3 erwachsene Kinder und 4 Enkelkinder
Sie ist Therapeutische Seelsorgerin in eigener Praxis (https://www.frauengutberaten-sixt.de) und ist als Referentin bei verschiedenen Frauenveranstaltungen unterwegs und nebenbei Autorin einiger Bücher.
Im Anschluss findet ein Creative Workshop statt. (Separate Anmeldung erforderlich)
Samstag, 8.10.22 | 9:30 Uhr
08
Ladies Creative WorkshopHerbstliche Deko basteln
Im Rahmen des Ladies Mornings findet ein Creative Workshop "Herbstvielfalt" statt.
Wenn Du dich beim Ladies Morning (Brunch & Vortrag) gestärkt hast, kannst du anschließend bei einem herbstlichen Workshop deiner Kreativität freien Lauf lassen. Du kannst Blumen-Loops, Blumenboards oder andere herbstliche Dekorationen für Dein Zuhause kreieren. Es werden auch farblich neutrale Möglichkeiten aus frischen( trockenbaren) und bereits Getrockneten Naturmaterialien (Eukalyptus, Hortensien etc.) angeboten. Gönn Dir diese Auszeit, sei dabei und lass deiner Kreativität freien Lauf.
Kosten für Material: 35 € (Barzahlung vor Ort)
Samstag, 8.10.22 | 12 - 14 Uhr